Click here to order Holy Resilience on Amazon.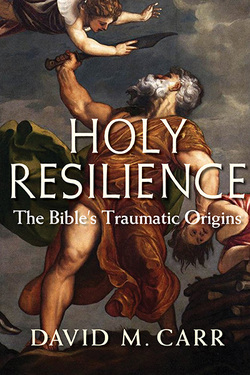 Human trauma gave birth to the Bible, suggests religious scholar David Carr. The Bible's ability to speak to suffering is a major reason why the sacred texts of Judaism and Christianity have retained their relevance for thousands of years. The author tells the story of how the Jewish people and Christian community had to adapt to survive multiple catastrophes and how their holy scriptures both reflected and reinforced each religion's resilient nature.
· Offers a new understanding of how and why the identity of "Israel" was adopted by ancient Judean, Jewish and Christian communities.
· Attends to a gap in biblical history—the lack of an account of the Judean exile in Babylon.
· Provides a new explanation for the emergence, during that exilic gap, of a focus on stories about Israel's earliest ancestors (Abraham, Sarah, Moses, etc.).
· Gives a new account of how Judaism and Christianity emerged as separate religions, responding in different ways to Roman trauma
Early Responses:
"Looking at his subject through the lens of contemporary trauma studies, Carr (Union Theological Seminary) offers an insightful rereading of Hebrew Bible and Testament texts as "responses to suffering." . . . Carr's reading is not simply fashionable; it is enlightening" Recommended: All Readers in May 2015 issue of
Choice Magazine
by H. M. Szpek
"Just as the biblical text
emerged in response to trauma, this may
be an important time to let the text touch
the power and pain of trauma yet again.
Carr has provided an accessible guide for
further work, and this new cognitive dis
cipline for scripture study is sure to be of
immense importance for some time to
come." Walter Brueggemann in the Sept. 2, 2015 Issue of the Christian Century.
"David M. Carr's
Holy Resilience: The Bible's Traumatic Origins
(Yale University Press) offers an intriguing reading of the Bible as the product of reflection on a series of disastrous experiences in the life of the people of Israel and Judea and then early Jewish and Christian communities . . . His retelling of Israel's history moves quickly and engages the reader, who is taught to wonder how and why the biblical writers articulated the journey as they did." From
"Many Voices: One Spirit"
by John C. Endres and Jean-François Racine in the March 30, 2015 issue of
America Magazine
"In this convincing synthesis of biblical scholarship and research on trauma and collective memory, Carr (The Erotic Word: Sexuality, Spirituality and the Bible) concludes that monotheistic religion resulted from the collective traumas recorded in our biblical texts, trauma which reverberates even now in our secular, "disenchanted" culture. . . Lay readers of all faiths are likely to find this accessible book thought-provoking."
Publisher's Weekly review
"David Carr's brilliant book is a magisterial reinterpretation of the emergence and sustenance of biblical Scripture. It is a pioneering, powerful, and poignant treatment of a traumatized people making sense of a catastrophic world—yet still able to find hope in compassion and endurance in empathy!"—Cornel West
"Clear and persuasive,
Holy Resilience
illuminates the origins of the Bible by bringing the early history of a traumatized people to light. This fascinating and engrossing book peels away the veils of history to teach us about ourselves."
--
Mark Epstein, MD, author of
The Trauma of Everyday Life
"Taking on the entire Christian canon, David Carr courageously and creatively builds upon his established skill as an interpreter of Scripture to provocatively examine the role of trauma in its creation. His striking interdisciplinary exploration is an important accomplishment."—Daniel Smith-Christopher, Loyola Marymount University of Los Angeles
"This remarkable book, which reads like a thriller, tells the story of how centuries of catastrophes and traumas shaped ancient Israel of Old Testament times and later Jewish and Christian civilizations. Anyone who wishes to know who we are and where we come from should read this book."— Israel Finkelstein, Tel Aviv University
---